How Much Will Your Next Project Cost?
Select the type of work you need help with on your windows
---
**Prices are estimated costs. Many variables can affect the pricing (interior woodgrains, exterior paint finishes, glass options, window sizes, etc.
---
Replacement Windows That Can Transform Your Home
Window Concepts offers a large variety of gorgeous window styles that can improve the appearance of your home. Popular window styles include awning, single hung, double hung, casement, sliding, and picture windows. Our friendly and knowledgeable staff can help you understand the benefits of each style so that you can choose with confidence the design that works best for your home. No matter which option you choose, all of our windows feature:
Durable Construction
All of our windows are constructed with tough materials to provide long-lasting protection and beauty for your home.
Energy Efficient Technology
Our windows come equipped with features that will help to reduce heat transfer both in and out of your home and potentially reduce the energy usage in the harsh winters and hot summers.
Warranty
Our installation team will install your replacement windows so that they fit seamlessly on your home, without any issues. And, for added peace of mind, every window comes with a limited warranty.
---
We'll Complete Your Window Replacement Project and Exceed All of Your Expectations
Whether you're looking to have your current windows replaced with a new casement, sliding, picture, or bay, you're sure to find the perfect style when your partner with Window Concepts. And, with so many built-in features and color options to choose from, we have no doubt that you'll receive windows that suit your Milwaukee home as well as your own personal tastes. Our windows are:
Low maintenance and very easy to clean
Energy efficient to help maintain a comfortable temperature inside your home
Affordable, thanks to the many financing plans we offer qualified customers
Available with premium features, such as high-performance glass packages
Customizable with your choice of color, texture, and pattern
---
---
Window Concepts - A Home Improvement Company Committed to Integrity, Excellence, and Service
At Window Concepts, we do so much more than just provide top of the line products - we put your customers first in everything we do. By conducting business with integrity and treating people with honesty and respect, we've earned the trust and appreciate of thousands of homeowners all over Milwaukee County. As a locally owned company, we are honored to help our fellow Wisconsinites make their homes more beautiful and functional with new and replacement windows.

We are happy to provide you with a complimentary in-home, no-obligation consultation so that you can get started on making your dream home a reality. Contact us today to learn more.
---
Home Window Replacement
Picking out the perfect windows to use for your house may seem like an easy and straightforward task, and it can be. We are here to help you choose the right windows for your needs and budget. There are a wide variety of windows to choose from and are mainly classified based on their cost, utility, shape, mode, and direction of opening and closing among other factors. Under each classification, every type of window has a unique factor that would make a homeowner choose it. For this reason, we make it easy for homeowners to have all this information quickly, and to be able to make the best window choice decisions. The main factors that determine the classification of windows are:
Benefits of Home Window Replacement
Ease of Maintenance
We offer windows which fold inward to clean, so there is no more climbing on ladders to clean the outside. Additionally, we offer glass panes with a cleanless coating, so the glass stays cleaner longer.
Noise Reduction
Do you have noisy neighbors, or does someone you know drive their Harley to work at 6AM? Adding additional panes of glass can dramatically reduce the noise pollution that enters your home.
Beauty
Who wouldn't want their house to look newer or a little better than it currently does? One of the most common reasons we find our customers are looking for new windows is to make their house more beautiful.
Safety and Security
Tempered safety glass adds numerous benefits including improved safety and protection measures from broken glass. Many windows offer additional safety locks for added security as well.
Ease of Operation
Sliding windows can slide easier, and cranking windows can crank easier. Your windows can be easy to open, easy to close, and easy to clean.
Comfort
You'll find yourself warmer in the winter and cooler in the summer.
RATINGS
See More Reviews
---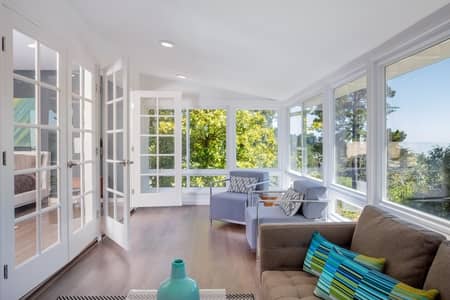 Our Most Popular Window Replacement Projects
Take a look at our most common window replacement projects and why they are always the most asked for products.
A double hung window is a window with two operating sashes moving up and down, and meeting at the center when both are closed. Since both the upper and the lower sashes are movable, they allow the user to open either of them at the same time when ventilation is needed. While both sashes are movable, the main benefit to having a double hung window is the ease of cleaning and maintaining it.
Both the bay and bow windows are the type used when as a homeowner; you want your windows to project out of your house. The idea most of the times is to save more interior space in the house. It is made such that the window comes out from the exterior wall, creating a small shelf on the inner side of the house. For perfection, the larger the part projecting out of the exterior wall, which is the actual window, the larger the shelf on the inside.
These windows are some of the old types of windows to be used. In relation, bay windows are preferred for modern homes while the bow windows for older Victorian homes.Bay windows are installed together with flat windows, set into an angled frame projecting out of the house.Bow windows, on the other hand, rely on custom curved windows that come together to create a circular outcropping in the house.Due to the curved and projecting nature of the bay and bow windows, there is more shelf space created in the house.
As part of their structure, casement windows are built with a swinging arm and hinged from the side. Because of the swinging arm, the windows are swung up or out to the side to open. Casement windows are commonly combined with other window types such as bays or bows and can be attached to picture windows.
---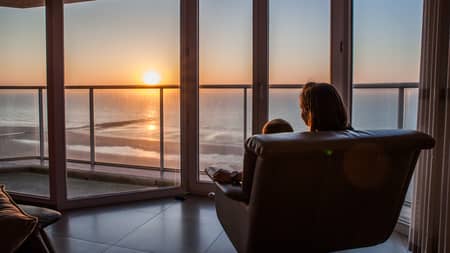 Isn't it fascinating to just sit back behind a big screen and watch colorful pictures? How much more, if the big screen is your window overlooking your backyard, or the stream down the valley? Picture windows are basically that: large windows that don't have any frame obstruction. and allow a picturesque view. They are not made to open in any way, and as such are ideal for a great view and not ventilation.
A sliding window comes in a two-section structure made from single windows and one of the sections slides horizontally over the other to open. This means that, at any one time, only one section of the window can be used for ventilation. Normally, they are installed on the upper sections of the wall allowing a homeowner to easily place and arrange furniture without worrying about blocking the window. The fact that these windows don't take up a lot of vertical space leaves a lot of space on the lower sections of the wall, making them common in homes with short walls.
Specialty and Custom Windows
We make each of our windows to fit specifically into your home.
Other window types we support include:
---
Window Estimate - Frequently Asked Questions(FAQ)
How Much Do New Windows Cost?
The average Window Replacement Cost in the Greater Milwaukee Area ranges between $249 to $2149 per window. The most commons windows installed are the single / double hung windows or casement windows which are very affordable and commonly in the range of $249 to $349.
A large bay window will be on the more costly side and will commonly range between $2149 and up depending on the window details and additional infrastructure support.
For a detailed breakdown of installation cost including material and labor use this online estimation tool. Here are a few replacement costs for common window types.
Single / Double Hung Window Cost:

$249.99 to $369.99

Picture Window Cost:

$289.99 to $1399.99

Bay Window Cost:

$2149.99 to $7915.00

Sliding Window Cost:

$249.99 to $842.30

Casement Window Cost:

$299.99 to $942.00
Pricing can be further narrowed down based on window dimensions, glass type, texture and color.
What Factors Impact The Total Cost Of Window Installation Or Replacement?
There are many factors that affect the total cost of new window replacement:
Size and Dimension of Windows
Type and Efficiency of Window Glass
Window Frame Material Type, such as Vinyl, Aluminum, Wood, etc.
Window Frame Detailing - grain patterns, color, stain, etc.
Installation Complexity - Windows located on tall homes or hard to reach places or complications with the frame and support
Labor Cost - Labor costs in the Greater Milwaukee area are usually calculated on an hour basis per job
Debris Disposal Costs
New Construction or Replace Existing
Decorative Features
Energy Efficient Options, other than glass type
An easy option to understand an expected price range for your next window replacement project is to use a window replacement cost calculator. This will provide you a baseline estimate based on the window type. For a more detailed quote it may be necessary to take a few measurements and discuss decorative options and material types.
Should I Replace All Of My Windows At Once?
It is very common for homeowners to need only a portion of their windows replaced at one time. The most common windows which need replacement are the wood windows which are West facing.
Many companies offer material or labor discounts on larger orders so, if you have the financial flexibility consider replacing multiple windows at once. This can match the style across common floors and harmonize future project tasks.
Do New Windows Increase Home Value?
Yes, Replacing old windows does provide a significant boost to your homes value. Window replacement has consistently been in the top five home improvement projects which increases a home value.
An increased home value is most predominant when fixing even minor damage to the frame or decorative window feature. In fact, of the most common seller credits when selling a home is due to rotted or un-maintained windows.
When Is The Best Time Of Year To Replace Windows?
When the weather is warm! During the Spring, Summer, and early Fall months are the most common times to have windows replaced or installed.
During the installation and replacement process your existing window and even window frame needs to be removed. If the weather is too cold it may cause your home to become drafty or even expensive to keep warm.
How Do You Know When It's Time To Replace Windows?
Issues with windows can arise at any point in your home's lifetime. Look for these common warning signs that you should consider replacing your windows:
Drafts – You can feel cold air coming in around the frame. You can hear the wind blowing outside. Drafty windows cause your furnace and air conditioner to work overtime causing an increase in energy bills
Increased In Energy Costs – Broken seals, drafty windows, and lack of efficiency, cause you to spend more money staying comfortable.
Difficulty Operating – You are struggling to open, close, and/or locking the windows.
Condensation – You find yourself wiping water off your windows.
Moisture Build Up Between Glass Panes – You see water beading up at the seal or in between windowpanes. This is most commonly caused by a broken or poor seal.
Noise – You hear far too much noise coming in from outside.
Rotting / Decaying Window Frames – Your window frames are cracking, molding, peeling, or broken around the window, frame or sill. Be sure to inspect both inside and outside for defects.