---
Vinyl Siding Replacement
Siding is the outer protective material attached to the outer side of your house or building wall. With most walls made of either wood or concrete, wear and tear are inevitable due to reasons such as extreme weather conditions, necessitating the use of siding as a preventive measure. The vinyl siding, therefore, is a type of wall wrapping made primarily from Polyvinyl Chloride (PVC). The different types have different additives to the PVC altering the hardness, resistance, and glossy-look of the siding.
Benefits of Vinyl Siding
Maintenance Freedom
Energy Efficiency
Styles, Colors, and Profiles
Noise Reduction
Very durable
Warranty
Insulated Vinyl Siding
Use of insulated vinyl siding for your home or building is the literal application of the phrase, "killing two birds with one same stone." Other than just creating a wrapping to protect the exterior of your house from destruction, the insulated vinyl protects your home from the extreme weather conditions.
Just like the other types of vinyl sidings, it is made of PVC, but now as part of its manufacturing, additives and supplementary raw materials are used to add a coat that does not allow heat to pass through. At the same time, the vinyl becomes stronger and therefore, can stand even stronger external unfavorable conditions, not to mention lasting way much longer than the normal vinyl siding. During installation, it is placed in a flatter way than the other types, to reduce the amount of space between it and the actual house wall to increase its insulation ability.
The insulated vinyl siding commonly appears to be thicker than the other types of vinyl. Can you imagine how much energy you would save by using this insulated vinyl, especially during summer and winter? During these extreme seasons of the year, most homes in the US has the AC system in operation full time. This uses a lot of electrical energy, which is environmentally and economically very costly. Most people and corporates advocating for green-living recommend this product as it saves a lot of energy, improving the efficiency in America's use of available energy. This energy saving significance is its ultimate benefit, as it is not only a personal one but a global one and in line with the global objectives of making the world a better place to live in for current and future generations.
RATINGS
See More Reviews
---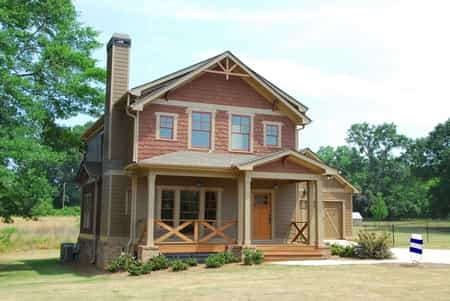 Vinyl Shake Siding
The shake siding is one of the several vinyl types that is most sort after due to its brake-shake pattern. This closely replicates a real wall from the outside. As compared to other types of vinyl and wood sidings, the vinyl shake siding saves you the problem of uneven weathering and need for regular maintenance. To stand out from other vinyl sidings, they are arranged vertically during installation. At the end of it all, the different parts of the shakes become one wrapping to your home. It makes your house look extremely beautiful from the outside.
To ensure that you get the maximum value for your money, we have partnered with a wide variety of trusted vinyl siding manufacturers, who we have vetted and ascertained that among other things, have fully complied by the standards of the American Society of Testing and Materials Standard 3679, as required by law. That said, we are looking forward to serving all your siding needs now and in the future.