Siding Installation and Replacement
If you're at a loss on what your next new siding, take inspiration from the homes around you. Chances are, you'll see overlapping sidings that are made from authentic wood. Or is it? Upon closer inspection you'll likely find that the material isn't wood, but rather it could be made of wood, aluminum, or even vinyl. Once again choosing the right siding material can be confusing. We can help with our unique blend of maintenance free and insulated siding systems. Our exclusive solid core vinyl siding is offered in many unique designs, colors, and styles to appeal to your own personal taste.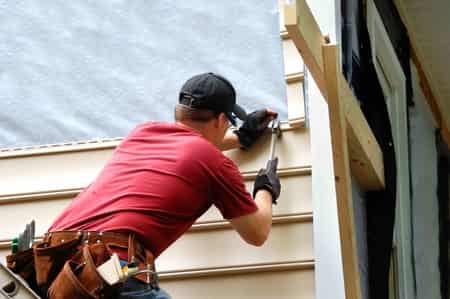 Benefits of Insulated Vinyl Siding
Picking out the right siding to use for your home may seem like an easy and straightforward task, but it can be quite confusing. This is due to the wide variety of siding options and styles to choose from. We can help make it easy because we have an option for every budget. Don't forget to ask about our own special financing plans. With our insulated glass packages storm windows are no longer necessary, and your window washing time is cut in half.
Maintenance Free Vinyl Siding
Weather is beating the outside of your home. Whether it's from strong winds, hail, the damaging rays of the sun. Mother nature is a beast. How long do you want mother nature's bullying to continue?
Vinyl is made of a durable PVC resin, which gives it the strong and durable characteristic. Our special PermaWall siding lasts longer than traditional siding material, and greatly benefits the exterior of your home. Our PermaWall siding is a unique take on solid core siding which can survive the harsh elements– no more painting or cleaning, no fear of falling off ladder while maintaining it.
Maintenance won't be such a hassle as compared to other siding materials. You won't have to worry about attracting pests such as termites, etc. A good vinyl installation with the right contractors can make your vinyl siding act as an excellent insulator against external temperature changes, thereby saving you in huge spikes in energy bills. You won't have to think about re-painting as the vinyl material retains its color quite nicely. The panels may fade but it's just a matter of replacing that particular panel with a new one. Annual cleaning is still a necessary part of maintenance. Just keep in mind that all the other non-vinyl exterior parts such as your aluminum trims, wooden shutters and metal doors will still have to be maintained according to their characteristics.