Skylight Window Installation and Replacement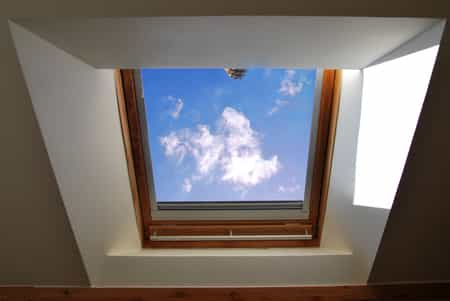 Skylights are a very modern type of window placed on the roof and are visible on the ceilings of any room. Similar to a round window, skylights allow natural light to enter at different angles illuminating your homes interior in unique ways.
Skylight glass technology has advanced through the years now offering increased energy efficiency options which might not have been available during the installation of your original skylight.
The best time to upgrade your skylights is during a roof upgrade to ensure the best installation process ensuring a strong water tight seal.
Advantages of Skylight Windows
Increased Natural Light
​With natural light entering from your ceiling, there is no better way to brighten up your homes interior without the use of electrical lighting.
Drawbacks of Skylight Windows
Extra Maintenance and Care
​​By cutting a hole in your roof or ceiling you are always going to be more prone to water leaks.
Exposure to Direct UV Rays
​In the past sky lights have been known to allow the overexposure of direct UV rays over a long period of time. In some cases, this has been known to damage electrical appliances, televisions, or flooring. With the advancements in glass technology, this is now a concern of the past.
RATINGS
See More Reviews