Bay Window Installation and Replacement
A standard bay window is a combination of three windows in one construction. We commonly offer one large picture window in the center and two smaller angled windows on the end lites. The end lites are typically double hung or casement style windows, which project outwards. This combination adds a perception of depth to any room.
The large picture window allow more natural daylight while the angled end lites allow efficient ventilation into the house. For stability, all these windows are framed together and supported at the bottom, from the exterior side of the window. In addition, the projected bay window will be supported by a custom built roof or tied into your existing soffits. It's very important to not have any projected window exceed the width of your existing soffit as weather such as rain or snow will build up on top of projected bay window which will cause long term damage.
Bay windows are complex in design and extend beyond your homes walls, which makes for a more costly installation process. However; bay windows add tremendous curb appeal to any home. Although bay windows aren't for everybody, we can help guide you through different window style options to achieve your dream window.
Advantages of Bay Windows
Extended View
​Unlike most of the other windows which are affixed to the wall, the bay windows stretch out and project out of the walls of the house increasing your view.With a bay window you also allow more light and air into the room. As part of the bay windows, the picture window portion is large and unobstructed and as a result, offers you a wide view outside, thus creating a perception of depth to your room. Location of the bay window is essential in enjoying this benefits.
Enhanced Floor Space
Especially valuable for space tight homes, the bay windows create more shelf space along the base of the window construction. As the windows project outwards, more space is created on the inside making a rather small space seem big. It not uncommon to add at least ten square feet to the initial room size with a single bay window.
Provides a Convenient Seat Board
​Depending on the projection of the bay window, you will enjoy an additional space for plants, books, or other interior decorating items to enhance your homes inner beauty.
Drawbacks of Bay Windows
Cost of Installation
Bay windows involve the use of multiple windows. They require bracing reinforcement to ensure long term protection from weather and proper operation. Although bay windows are a costly investment, we offer affordable financing options to help you achieve your dream window.
Professional Technical Requirement
Many do it yourself-ers may have the courage to add or replace a double hung or small window. But the complex design of a bay window, overall size and weight, as well as proper support, creates a much greater need for expertise in the installation process. Always consider consulting a professional window contractor before installing a bay window to maximize your utility.
RATINGS
See More Reviews
---
Choosing The Perfect Spot for Your Bay Windows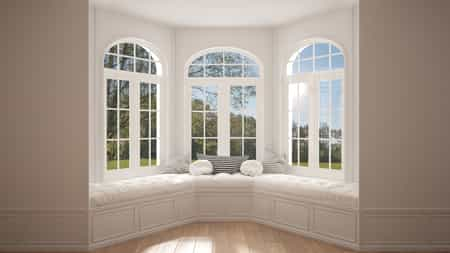 Window Concepts always wants to give your home the best improvement possible, and as such we work with you to determine which area lets in the most air, the most sun, or provides you with the best possible view.
We would like to add that, not all rooms are an ideal fit for bay windows due to the heavy weight of the windows, and the additional reinforcement that is commonly required on walls to support the addition. With this in mind, we work with every homeowner to determine how to accommodate any window installation.
A picture window can illuminate your living space with natural light.Whereas a modern bay window offers the same natural light with additional storage space.A double or single hung window can liven up your kitchen, bedroom, and bathroom, however; if you're looking for a crank open window, look no further for a contemporary casement window. Our swing open casement windows allow for all the lovely spring air to fill and breathe freshness into your home. Lower monthly heating and cooling costs can be another factor when choosing the frame, glass, and window design. When winter blows in, the higher efficiency will truly become a feather in your cap when you no longer must-see condensation build up on your glass, or the cold drafty air blow right into your home. As our parents have always said, we're not paying to heat the whole neighborhood.
Deciding On The Bay Window Size
Bay windows come in different projection angles which can alter the overall projections available. Our trained sales and installation staff can help guide you to the best choices available for your home.
Things to consider when choosing the best bay window option, consider changing sun angles throughout the day and seasons of the year. In addition, consider typical wind direction for best ventilation option. We would be happy to help guide you through this process to find the best projected window solution for your home and interior and exterior space.