Arched Window Installation and Replacement
We at Window Concepts work with every one of our customers to customize their home, and we often find that adding or replacing arched windows requires modification to the structure of their home. For this reason we are always happy to take a look at your windows, and if we can't help you we can help steer you in the right direction.
Arched windows are curved or pointed towards the top of the window. Today, the use of the arched windows in modern homes bring out the Roman architectural style and feel, especially to the homeowners desiring more space and uniqueness. Below, we look at some of the different types of arched windows to choose from at the same time understanding the features and differences among them.
Advantages of Arched Windows
Creative Design
​​These windows have recently become more popular because they add aesthetic appeal to the home, but ultimately have a high cost of ownership. An arched window is a unique design which is commonly combined on top of other common windows such as double hung, casement or picture windows.
Drawbacks of Arched Windows
No Ventilation
Arched windows are ideal for letting in light, but not so much for allowing airflow. If you're looking for something with more ventilation try combining an arched window with a double hung or casement window.
Cannot Be Used as an Escape Route
​Because the window is fixed in place, and does not open this is not an ideal design for use as an escape route during a fire or other emergency.
Cost of Ownership
​Arched windows have no moving parts such as hinges or latches, but there is a high cost of ownership both in installation and maintenance cost.
Window Size and Shape
The size and shape of window is normally predefined based on the construction of your home. Modifying a brick or structural component of your home is often labor intensive and costly.
RATINGS
See More Reviews
---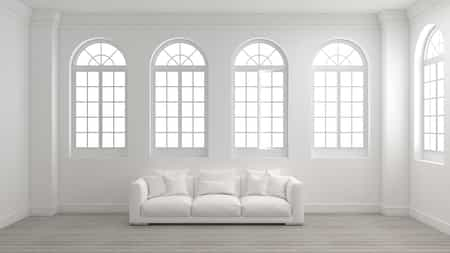 Geometrics and Specialty Shaped Windows - True Arched Windows
​Geometrics and specialty shaped windows, such as a half rounds, are more commonly known as an arched window. A true arched window will have proportions where the maximum height of the window is ½ the total width of the window, and arcs evenly over the entire width.
Extended Leg Half Round Windows - Eyebrow Arched Windows
Extended Leg half round windows, are more commonly known as eyebrow arched windows, which would not be a true arch because it will include a vertical extension below the arch.