Picture Window Installation and Replacement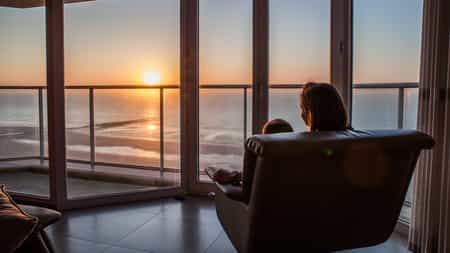 There's nothing complicated about the design of a picture window—it's a simple square or rectangular shape that offers an unobstructed view to the outside. So, what's all the fuss about? Why is the simple picture window so unique and special?
The answer is that the simplicity behind the picture window is actually its most powerful attribute. Here at Window Concepts, we've helped homeowners completely transform their homes with the addition of picture windows. They're an incredibly versatile window choice, meaning that whether you choose to have them stand on their own or combine them with additional windows, their simplicity makes for an easy way to bring the beauty of the outdoors inside of your home in whichever way you choose!
Advantages of Picture Windows
Scenery and Brightening Your Rooms
Picture windows are the perfect options for letting light and the outdoor scenery into your home. The window does not have any seams or breaks and it is fully sealed after installation, enhancing views and eliminating any framework or structural lines through your window.
Natural light can benefit your home in so many ways. Large picture windows provide an unobstructed enhancement of natural light in addition to boosting your homes curb appeal. The natural light will help enhance the colors within your home and add an element of elegance. If a bright sunroom has been on your wish list or you've got a beautiful view that's too stunning to capture with a series of small windows, consider picture windows. Large picture windows are great for creating window walls by aligning many picture windows together.
Expansive
​​Picture windows are an excellent way to make any room appear larger, by adding a perception of depth to any room.
Excellent Weatherproofing
​Picture windows do not open and as a result offer the perfect weatherproofing for your home. These non-operable windows are completely sealed at the sides to ensures that during storms and rain, water cannot get into the house.
Low Maintenance
​Because these windows are non-operable there are no moving parts which need to be maintained or replaced as is the case with casement, double hung, or sliding windows.
Affordable
​Compared to other windows which tend to offer unobstructed views such as bay or bow windows. Picture windows will not require any structural modification to your home or any other support to be built or extended outside of your home.
RATINGS
See More Reviews
---
Drawbacks of Picture Windows
Poor Ventilation
​​A picture window by itself is a fixed non-operable unit that is not meant not to open at any point and as a result, offers no ventilation options. Combine picture windows with double hung or casement windows to enhance your homes ventilation.
Heat Gain
​​Through the large unobstructed space of the window, a lot of sunlight is allowed into the house, which may result in the nice warm sun rays to warm your home. However, in the summer months it can make a room extremely warm and uncomfortable. Choosing the right glass option will provide year long comfort and energy savings.
Choosing the Right Size Picture Window
​Picture windows are incredibly versatile windows, and whether it's time to replace your existing picture window or if you've been inspired to try a new look in your home, a picture window is a great starting point. Picture windows come in a wide variety of styles and can be paired with many other window designs, and can even be customized to match interior or exterior colors.
---
Picture Window Combinations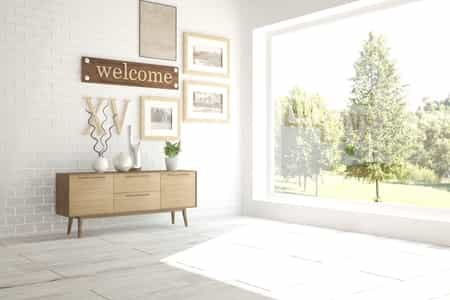 ​Compliment or upgrade your home's appearance by combining picture windows with other window styles. For example, you can increase ventilation and natural light by adding casement or double hung windows on both sides of a picture window. Or, adding a specialty transom window above your picture window can go a long way in adding value and an architectural interest to your home.
Combining the picture window with end venting casement windows allows you to have the enhanced view of the outside environment and at the same time, proper ventilation. Casement windows, open the full height of your picture window offering the maximum ventilation.
Combining the picture window with the traditional look of double hung window. Double hung windows don't offer ventilation in the full height of the window like casements, however still allows for an increase in ventilation. The easy fold in to clean option available with double hungs is also a well-known benefit.