Casement Window Installation and Replacement
There are many different types of hinged windows, and most homeowners tend to confuse them all as casement windows. The distinctive feature of a casement window is that they are hinged at the sides. Casement windows are available in a variety of combinations. Casement styles vary from single lite casements to multiple lite casement options.
To open, the windows are cranked outwards by turning a tensioner knob, which opens the window along the hinges. The windows can be hinged either to the right or to the left to best aid your ventilation preference. Casements are commonly called hinged or crank out windows. These types of windows are commonly enjoyed during the summer months as they are good for maximum ventilation due to the fact that they open the entire height of the window.
Advantages of Casement Windows
Excellent Ventilation
​​​​Casement windows are the perfect option for the warmer months because of their ability to open across the entire height of the window. By positioning the windows in a way that the wind blows across the house, brings a cooling effect during the summer. At different angles, you can regulate the ventilation of your home, reducing the use of an AC system, and save you money. Casement windows also come in wide variety of sizes, but may be limited by size, weight, and the ability of the hinges to hold and support them.
Ease of Operation
The windows are easily opened and closed by simply cranking the tensioner knob inwards or outwards which adjusts the window stay. Full screens are conveniently located on the inside and stay cleaner as they are not exposed to the harsh weather conditions on the outside of your home. Rather than hinged like a door, when fully extended, our casement window pivots toward the center which allows you to easily clean your window exterior safely from the inside of your home. In addition, this pivoting action increases ventilation capabilities.
Unobstructed View
​​​​Casement windows are actually the equivalent of an operable picture window and do not have horizontal or vertical sash rails that are common in double hung windows. This creates a much more open feel and modern look.
Drawbacks of Casement Windows
Relatively Expensive
In most cases, homeowners pair casement windows with other window installation projects such as bay windows or picture windows. As such, the overall cost can be slightly higher than that of a double hung or sliding window. Regardless of the windows your home needs, Window Concepts works with you to get you a flexible financing package the perfectly suits your needs.
Extra Maintenance
​​​It is common for the hinges to break due to strong winds or simple mishandling. The easiest remedy for this common mishandeling is to simply lock your windows after each use, ensuring proper alignment and good long term functionality.
RATINGS
See More Reviews
---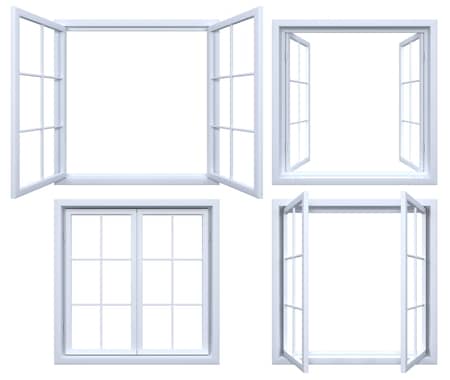 Casement Window Hardware Options
Ease of Operation
​​Our crank mechanisms allow for smooth and easy operation to open and close your casement window to your desired ventilation level.
Proper Seal and Secure
​Our multipoint locking system ensures a tight seal and also allows you to securely lock your window with one easy to operate locking lever.
Small Footprint
​​Our crank handle conveniently folds into our crank housing, so as to not interfere with your blinds or drapes.