Double Hung Window Installation and Replacmeent
Double hungs are some of the most common windows in the United States and offer a wide variety of benefits and unique features. A double hung window is a window with two operating sashes moving up and down, and meeting at the center when both are closed. Due to the fact that both the upper and the lower sashes are movable, they allow the user to open either of them at the same time.
Advantages of Double Hung Windows
Energy Efficient
​​Double hung windows are some of the most energy efficient options on the market when built with energy efficient glass and outdoor durable weather stripping.
Easy to Clean
​The ability to clean both the interior and the exterior of the window safely from the inside of your home makes it way much easier to maintain compared to single hung windows. This is because the two sash windows can easily be pulled either side, allowing you to clean each section at a time.
Excellent Ventilation
​Ability to open either part of the two sections of the window at the same time always allows you effective and enough ventilation through one of the windows. They do this not only by allowing air in but also getting rid of the warm air inside the house. With the single hung windows, you would require multiple windows to achieve the ventilation effectiveness of the double hung windows.
Easy to Add Screens
​​Double hung windows can be built with half or full screens if you wish to open both the bottom and top sashes simultaneously.
RATINGS
See More Reviews
Drawbacks of Double Hung Windows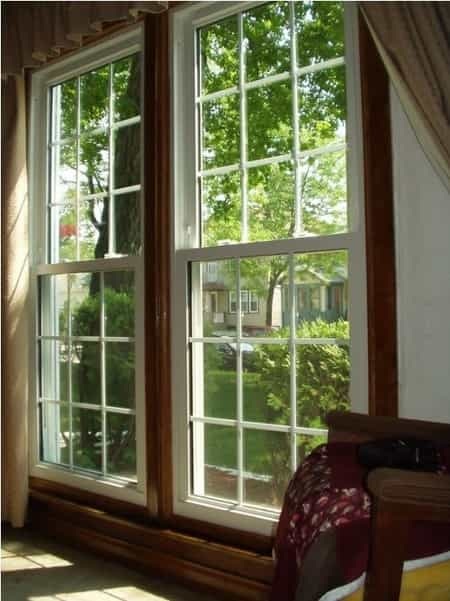 More Costly than Single Hung Windows
​As with all of our windows, we offer flexible financing package to suit anyone's needs. We work with our customers to identify which windows they need, and how they are installed. Double hung windows generally have a slight premium as opposed to single hung windows, however; nearly all of our customers decide that the benefits outweigh the slight premium.
Ventilation Compared to Casement Windows
​Regardless of the fact that the double hung windows have two sections of windows; they cannot both be fully open at the same time. The traditional double hung look does not offer the same unobstructed view that is found in a casement window. But ease of operation and ability to clean still makes this the most popular window style in America.