---
Window Concepts is Your Local Expert for Window Installation and Replacement
We know that finding the perfect windows for your home is not as easy as it seems.There are dozens of different options available, so with our professional guidance and your vision we know how to make it easy. Our local experts can help provide you with energy efficient windows that help with the extreme temperature changes that the windows in Wisconsin are known to endure.
Replacement Windows and Their Benefit to Your Home
Window replacement is one of the smartest investments you can make for your home and the environment. Energy efficient and replacement windows for your home can do more than just save you money on electric bills, they will also dramatically add to the value of your home.
Ease of Maintenance
Noise Reduction
Beauty
Safety and Security
Ease of Operation
Comfort
Read more about the benefits of replacement windows here
Several considerations need to be made when shopping for window replacements, such as:
Deciding which styles best suit your homes interior and exterior
Energy rating
Maintenance Freedom
Overall appearance and trim package.
RATINGS
See More Reviews
---
Our Knowledgeable, Experienced Installers Have What It Takes To Complete Your Installation Right The First Time
At Window Concepts, we understand that it is not enough for a window company to simply offer stylish and durable products - it is also important to have the knowledge and experience to install them flawlessly. Wisconsin homeowners choose us over other window replacement contractors thanks to our:
Top-Quality Craftsmanship
Our installers display only the highest level of care and precision while on the job, ensuring a perfect installation every single time.
Proven Track Record of Success
The quality of our work and the successful completion of numerous home renovation jobs has earned us 200+ reviews with a 4.8 star average rating.
Value and Affordability
At Window Concepts, our goal is to make your window replacement project as affordable as possible. That's why we offer our windows at an incredible value, and a variety of financing options to all our qualified customers.
---
Experienced, Trained, and Certified Window and Siding Installers Can Provide Many Benefits For Your Wisconsin Home
Homeowners in Wisconsin are always impressed with the quality of installation they receive with Window Concepts. We make customer satisfaction our number one priority, which is why our installation team will ensure:
That you can take full benefit of manufacturer warranties by installing your windows correctly
You're treated with courtesy and respect at all times
Your new windows are perfectly positioned and properly sealed
A tidy work area that keeps clutter and debris to a minimum
Prompt responses to all of your questions
Minimal disruption to your daily household routines
Your renovations are completed on time and within budget
---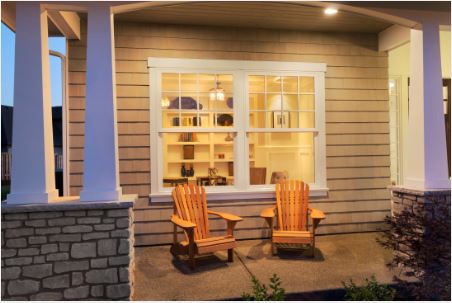 New Window Installation and Replacement
Window Concepts will offer you modern windows with multiple designs and aesthetic options.
Window Replacement Benefits by Window Type
A picture window can illuminate your living space with natural light. Whereas a modern bay window offers the same natural light with additional storage space.A double or single hung window can liven up your kitchen, bedroom, and bathroom, however; if you're looking for a crank open window, look no further for a contemporary casement window. Our swing open casement windows allow for all the lovely spring air to fill and breathe freshness into your home. Lower monthly heating and cooling costs can be another factor when choosing the frame, glass, and window design. When winter blows in, the higher efficiency will truly become a feather in your cap when you no longer must-see condensation build up on your glass, or the cold drafty air blow right into your home. As our parents have always said, we're not paying to heat the whole neighborhood.
You don't have to live with those hard to open, hard to clean windows anymore.
Why Choose Window Concepts for Your Window Replacement and Installation Needs
Replacement windows are easier to operate, more energy efficient, increase the resale value of your home, and not to mention the maintenance freedom.Window Concepts can help you find the perfect window for your home. Whether you need bay, bow, double hung, slider, casement or any of the other window styles we offer, you can feel confident in the high - quality options we can offer.Our replacement windows are Energy Star certified and made to combat the extreme weather conditions in South Eastern Wisconsin.Installing new windows in your home is a great investment and can increase your home's value.
---
Siding Installation and Replacement
If you're at a loss on what your next new siding, take inspiration from the homes around you. Chances are, you'll see overlapping sidings that are made from authentic wood. Or is it? Upon closer inspection you'll likely find that the material isn't wood, but rather it could be made of wood, aluminum, or even vinyl. Once again choosing the right siding material can be confusing. We can help with our unique blend of maintenance free and insulated siding systems. Our exclusive solid core vinyl siding is offered in many unique designs, colors, and styles to appeal to your own personal taste.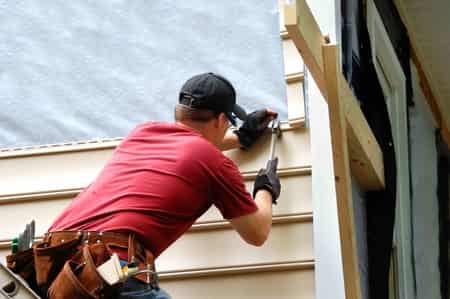 Benefits of Insulated Vinyl Siding
Picking out the right siding to use for your home may seem like an easy and straightforward task, but it can be quite confusing. This is due to the wide variety of siding options and styles to choose from. We can help make it easy because we have an option for every budget. Don't forget to ask about our own special financing plans. With our insulated glass packages storm windows are no longer necessary, and your window washing time is cut in half.
Maintenance Free Vinyl Siding
Weather is beating the outside of your home. Whether it's from strong winds, hail, the damaging rays of the sun. Mother nature is a beast. How long do you want mother nature's bullying to continue?
Vinyl is made of a durable PVC resin, which gives it the strong and durable characteristic. Our special PermaWall siding lasts longer than traditional siding material, and greatly benefits the exterior of your home. Our PermaWall siding is a unique take on solid core siding which can survive the harsh elements– no more painting or cleaning, no fear of falling off ladder while maintaining it.
Maintenance won't be such a hassle as compared to other siding materials. You won't have to worry about attracting pests such as termites, etc. A good vinyl installation with the right contractors can make your vinyl siding act as an excellent insulator against external temperature changes, thereby saving you in huge spikes in energy bills. You won't have to think about re-painting as the vinyl material retains its color quite nicely. The panels may fade but it's just a matter of replacing that particular panel with a new one. Annual cleaning is still a necessary part of maintenance. Just keep in mind that all the other non-vinyl exterior parts such as your aluminum trims, wooden shutters and metal doors will still have to be maintained according to their characteristics.
---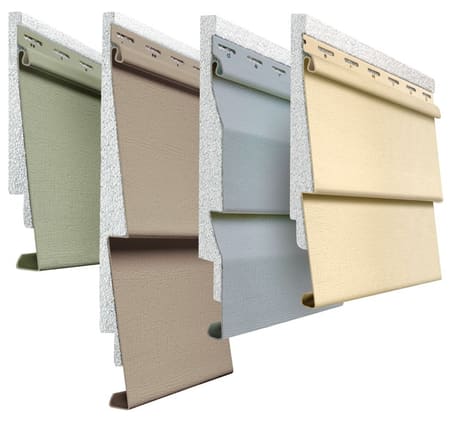 Siding Color and Texture Selection
Replacing your siding can provide your home with an exterior face lift to make your home really stand out in your neighborhood. In addition, beside your future of maintenance freedom, you can enjoy energy efficiency, an increased curb appeal and a renewed pride of ownership. Our special PermaWall solid core siding retains is color long after traditional siding has faded. This is nothing like traditional vinyl siding systems. We can help make it easy by providing all the right information to decide which siding system is best for you. You can choose from a wide variety of colors, designs and styles when you get vinyl siding for your home. You can even choose the hue and shade to match your home theme.If you're into wood, you can ask the manufacturer one that emulates wood grains and patterns that suit your taste.
Increased Energy Efficiency and Lower Heating and Cooling Bills
Most homes built before the 1980's were not built with an exterior home wrap. We wrap all new siding projects with Tyvek home wrap to provide a wind barrier, water protection, and breathability. This hidden benefit to replacing your siding can be explained with our informative in-home visit.
Increased Home Value
We make it easy by providing the homeowner with all the necessary information to make the best siding selection for your home.
---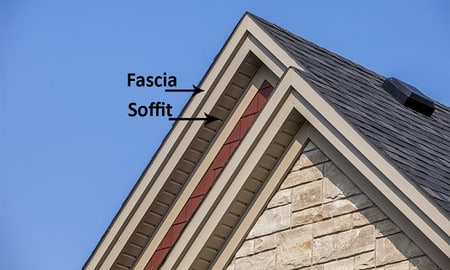 Maintenance Free Soffit Fascia and Gutters
The soffit, fascia, and gutters are at the highest points of most homes, and is easily the most overlooked, procrastinated, as well as dangerous areas when it comes to home maintenance. Thousands of people fall off ladders every year while maintaining their soffits, fascia, and gutters. Soffits, fascia, and gutters not only act as the accent features to your home, but when neglected they can detract from your homes appearance.
Maintaining your homes accent features is one the most dangerous, tedious, and time-consuming maintenance projects, but not with our Maintenance Free Soffits, Fascia, and Gutters
Benefits of Insulated Vinyl Siding
Maintenance can also be very expensive if you need to hire a professional painter. Installing our maintenance free soffits, fascia, and gutter systems, can safely eliminate the future expenses of tedious maintenance tasks such as repainting, as well as enhance your homes decorative features.
What do Soffits, Fascia, and Gutters do?
Soffits protect your home in a variety of ways. Soffits are an extension of your homes roof line to help shed water away from your homes exterior walls. When closed off and properly installed, it keeps water away, birds and other animals from nesting, as well as helping with attic ventilation. With open rafter soffits, we will close them off with maintenance free soffits to prevent the birds and the bees from nesting.
Fascia are the boards running across the rafter tails, forming the overhanging eaves and offer additional support for your gutter installation.
These are necessary parts of your home and add both aesthetic appeal as well as function.